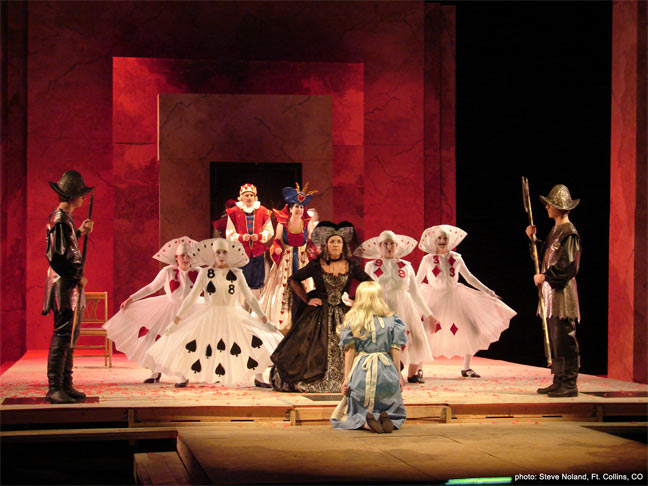 "... an upgrade in the quality of music over other kids' productions in memory."
— Tim Van Schmidt, Publisher and independent columnist, Fortcollinslife-times.com, Ft. Collins, CO



Here's what others have said about this production:
"... I just had to let you know how much I have enjoyed directing and producing your adaptation of Alice in Wonderland. It has been such a delight for me as well as for our youthful cast. Your music's originality was my initial inspiration for selecting your version of this tale and I will continue to hum the melodies for years to come, as will our cast members...Our opening night was a complete success! The audience clapped and laughed and gave a standing ovation! Your music was phenomenal...Thank you for giving us this wonderful rendition of a classic tale."
— Sandy Ludwig, Director/Producer, First Redeemer Conservatory of Music and Fine Arts, Cumming, GA
"... I want to thank you again for the beautiful musical Alice In Wonderland! Our children loved it and had a wonderful time with your version of the story! We actually love it so much that we are interested in performing your show again in November with our high school students! "
— Nicole Romo, Student Creative Director, Cantwell Sacred Heart of Mary High School, Montebello, CA
"... ALICE was incredible. Your music is being hummed by a cast of 60... Thank you, Michael for so much joy!"
— Lynda Sharpe, Drama Director, Middleton High School, Middleton, WI
"...just wanted to let you know how much we loved working on and performing your Alice in Wonderland for our April holiday workshop. It was such a joy and the kids and audience just loved it. The scenes were great to work on, great lengths for working with kids and the music was fab..."
— Julie Hamilton, Glasgow Stagecoach Theater Arts, Glasgow, Scotland
"... it was the music that gave the Ft. Collins Children's Theater production of "Alice in Wonderland" its most unique flavor. Sirotta can be credited with composing music that straddles the fence between theater and concert. It was unusually textured instrumentally, considering the lyrics had a particular story to tell. This felt like an upgrade in the quality of music over other kids' productions in memory."
— Tim Van Schmidt, Publisher and independent columnist, Fortcollinslife-times.com, Ft. Collins, CO
"... I just wanted to let you know that we had a very successful run of Alice in Wonderland!!! ...I had so many wonderful compliments on your music... Thank you again for creating such a beautiful show and giving me the opportunity to do it!"
— Heather Darrah, City of Kirksville Aquatics and Recreation, Kirksville, MO
"...The lively musical numbers include the calypso-like COO-COO and HAPPY SUMMER DAYS, which reminds us all to treasure the days of our youth. Sirotta's music and cute lyrics captured the spirit of each of the characters..."
— Eileen Siegel, Staten Island Advance, Staten Island, NY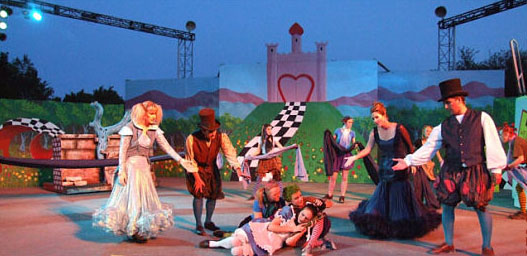 EmilyAnn Theater Production of Alice, Wimberly, TX

Click me to visit a page with samples of the music and lyrics, plus a video of a production number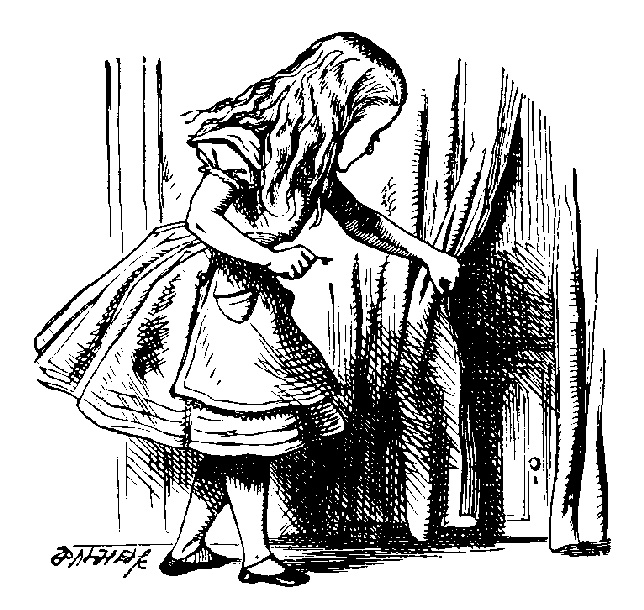 - or -

Read all about the production first
(access to the samples also will be found further down the page)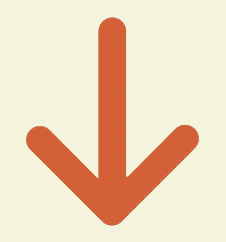 Alice: But which way should I go?

Cheshire Cat: Try...(indicating both directions at once)...THAT WAY!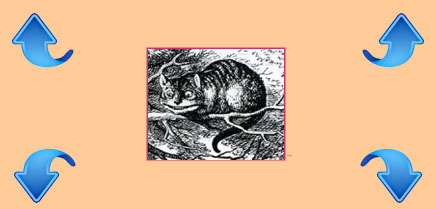 Michael Sirotta's Alice in Wonderland is a musical/operetta based on Lewis Carroll's well known dream-adventure novella, and, with a few alterations and abridgements, is true to Lewis Carroll's original story line and characterizations. It is suitable for performance by professionals as well as by primary and high school youngsters (grades 5 to 12). The production features an original musical score with original lyrics, and is youthful in spirit, but sophisticated enough to captivate adults. This is a high quality production with liberal licensing terms that is moderately priced.
THE MUSIC
Wonderland is a magical environment and music can help make that magic come alive on stage. The music, which ranges in style from pop to opera (without operatic vocal requirements) expresses the humor, drama and emotional power of the beloved tale and brings to life its magical elements. The score's songs and descriptive incidental and choreographic music accompanies the action with cinematic intensity, thus participating in the storytelling.
CASTING & LENGTH
The production is in one act and runs approximately 1 hour and 20 minutes. The size of the cast is large, but flexible (about 34 if you include all the 'bit' parts - larger contingents can be accommodated by augmenting the choreographic and larger choral numbers with additional personnel). A casting feature of this rendition is the employment of five similarly costumed actresses to share the role of "Alice"**. Click the following button for more information on the employment of five Alices in this production:
** If a producer/director would prefer, it is possible to adapt the script so as to merge those roles into that of a single performer - or fewer Alices, very simply done by combining roles.
Likewise, the role of the Cheshire cat is shared by two performers, enabling creative stagings of the cat's vanishings. For a complete casting break-down, please click here: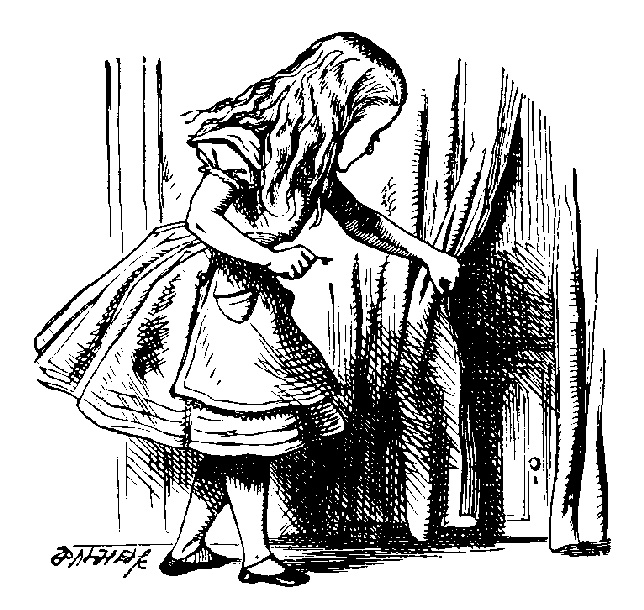 To the Cast List
(will open a new page - close the page to return to your reading)
CHOREOGRAPHY
This production provides choreographic opportunities for creative staff and performers, but the demands are flexible. Major "dancing" is not required, although those capable are certainly welcome to apply their talents. The musical score contains one isolated movement piece ("Caucus Race"), with a simple suggestion for its staging presented in the script. Other choreographic moments occur in the transformation sequences and in dance breaks during some of the vocals. Director/choreographers are invited to be as creative as they like in staging movement that the music and script evokes.

All script & music materials are downloadable,
or can be shipped to you

.
If you are seeking a unique, musical version of the Alice tale for your stage, this production may be what you are looking for. Whether your company, school or theater program has meagre or elaborate resources available, you will find producing it to be a rewarding experience for all. The show is adaptable to a range of performance situations and has been staged in venues ranging from gymnasium basketball courts to 2000 seat high-tech theaters.

If you wish to have a glance at some of the material, there are music, lyric and script samples, plus a video linked to this website. You may also order a perusal kit that will provide a full script and audio of all the vocal music of the show. Please click the door below to jump to the pathways that will lead you to those resources: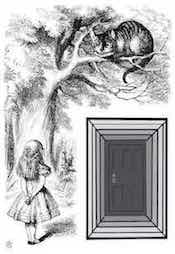 To Music Samples and Procurement Information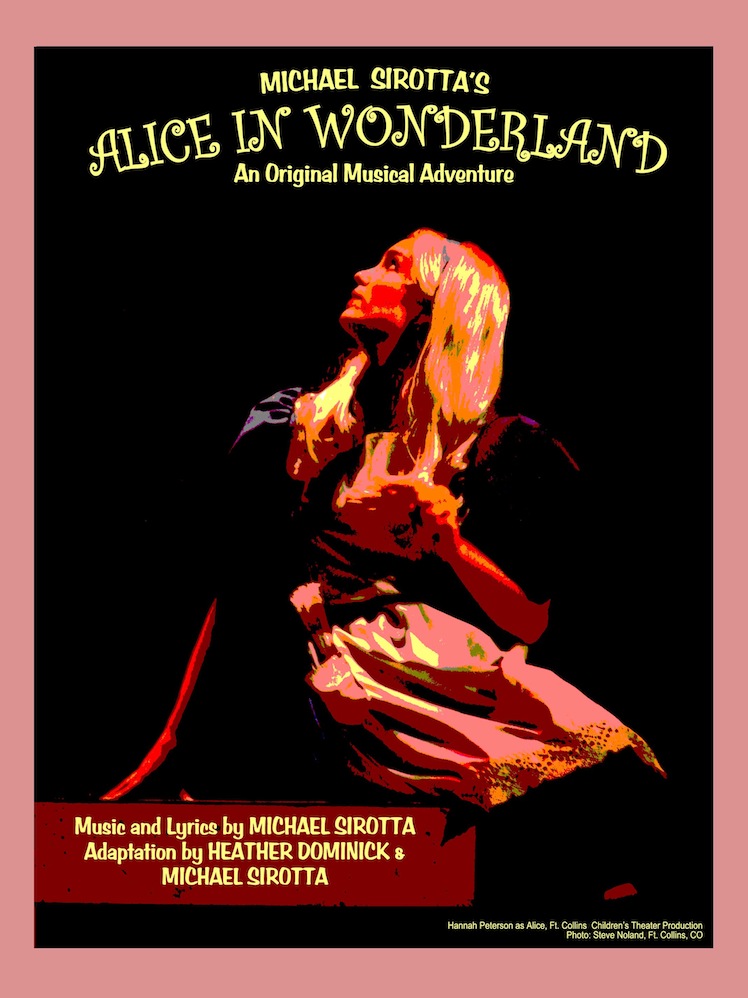 (Official Poster)

PATHWAYS TO MUSICAL EXAMPLES AND PROCUREMENT
Please click HEAR for samples of the material:


Hear Me! See Me!

Please click HERE for perusal and licensing information:


Stage Me!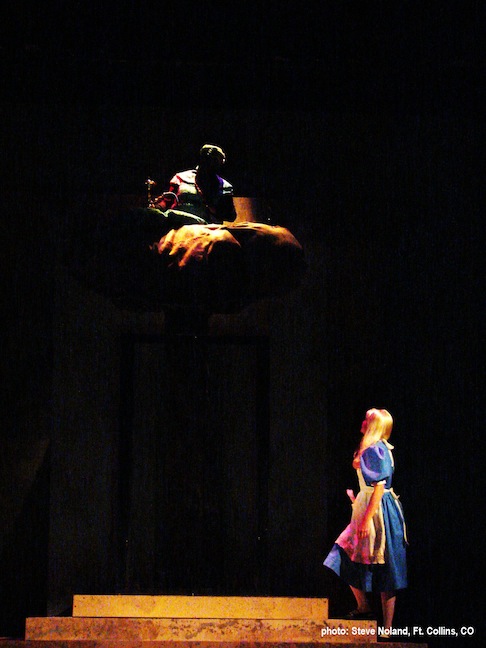 Caterpillar Scene, Ft. Collins Children's Theatre production, November 2008
Use this section only for ordering perusal kits via PayPal (valid email and shipping address required during the process). A response will come to the email address used to make the payment. All orders are handled manually so please allow a day or two for a reply. In most cases a response will come within hours of receipt of the order. Your email reply will contain further instructions for downloading or taking delivery by parcel.

To use PayPal for full production kit remittances, an invoice will be emailed to you with the mechanism for doing so, subsequent to your request.
********************************
US CUSTOMERS ONLY

(Alaskan or Hawaiian customers who would like to order a perusal kit by shipped parcel please contact:
msirt@sirmuse.com
)
Choose your shipping method from the drop-down menu below, then click the "Buy Now" button.
(pricing for shipped materials option includes parcel postage)

DOWNLOAD SECTION
(passwords required)

(if your browser is putting up an error message below the links about 'disabled Javascript', please contact msirt@sirmuse.com to receive another procedure for obtaining the digital materials via the web. Javascript needs to be enabled, which it is in most browsers, for the links to work properly)
PERUSAL KIT PURCHASERS WHO WISH TO DOWNLOAD THE PERUSAL MATERIALS
To unlock your door to the perusal kit materials with your case-sensitive password key (provided by email):
FULL PRODUCTION LICENSEES WHO WISH TO DOWNLOAD THE PRODUCTION MATERIALS
To unlock your door to the full production kit materials with your case-sensitive password key (provided by email):

*** NEW PRODUCTION NOW AVAILABLE***
Copyright © 2012, Sirotta Musical Enterprises